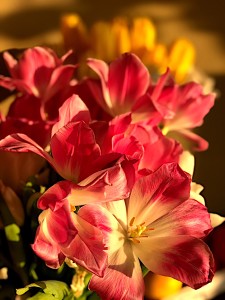 Want to know what I love more than the weekend?    Weekends where I don't have any specific plans or anything that 'must' be done, but rather can be filled with doing things that I 'want' or 'like' to do.
Had I kept to a stringent schedule- I may have missed out on one of those simple joys-    of seeing these gorgeous tulips Marcel gave me for Valentine's day- basking in the afternoon light- also what I called Golden Hour.    It's my favorite time of the day and even though I grabbed a couple of shots of them, I mostly sat and admired their beauty and how the light accentuated the shadows.   There is beauty in the everyday 'little' things if we take the time to notice.
What is something you noticed that many tend to overlook in the every day?
Tonight-  I'll spend my evening home alone.   Some may think that's a horrible thing, but me-  I use that as a time to relax and enjoy doing what I want to do without having to consider another.  There would be some who would consider that selfish.   I consider it self-care.   After all- If we can't take care of ourselves- how can we expect to care for others?
Wherever you are and however you find yourself spending your Saturday afternoon/evening- I hope your golden hour is as magical as you are.  Yes, you.