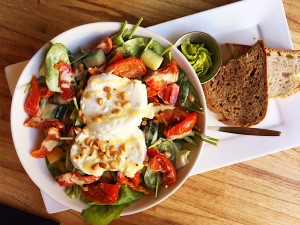 A few days ago I joined in on a 'Give Away' that one of my Instagram followers was doing for a free lunch on Valentine's Day. I thought it sounded like fun especially since I love trying new places, plus we had no plans to celebrate today.
To my surprise, I actually won the give away and spent the afternoon with my favorite guy at this cafe I'd never been to. Since I was craving salad, plus I'm trying to slim down- I opted for the warm goat cheese and spinach salad and I am SO glad I did. It was delicious. I skipped the bread since I'm trying to keep carbs somewhat at a minimum, but the salad- out of this world. Marcel had a club sandwich and french fries, which also were a win.
The food was good, the vibe good- and the coffee also a winner. Can't beat that combination. Oh and did I mention the people were also super friendly?
What are you doing for Valentine's Day?